Richard Petty is a NASCAR legend. He was the first driver competing in the Cup Series championship to win it an incredible seven times (this amazing feat is now tied with Jimmie Johnson and Dale Earnhardt). He won a record-breaking 27 races in just one season during 1967 and also won the Daytona 500 a record seven times.
Richard Petty trading cards are a must-have for any NASCAR fan! In this post, we will take a look at some of the most valuable Richard Petty trading cards on the market today.
Who is Richard Petty?
Richard Lee Petty (born July 30, 1937) is an American former stock car racing driver who raced from 1958 to 1992 in the NASCAR Grand National and Winston Cup Series. Nicknamed "The King" Petty is considered to be one of the greatest NASCAR drivers of all time by NASCAR fans and drivers alike.
Petty won a record 200 races during his career, this included winning the Daytona 500 an amazing seven times.
How Popular are Richard Petty Trading Cards?
 Richard Petty trading cards are very popular among NASCAR fans. 
Petty's 1988 Maxx rookie card, in fact, is considered by many collectors to be his debut rookie card.
The first certified autograph card for Richard Petty was from the 1992 Traks set. The card also also features Nascar legend mentioned in another of our posts. It is one of racing card history's most legendary autographed pairings, signed by Dale Earnhardt Sr and Richard Petty.
Petty's first memorabilia card was issued by Press Pass in 2006. It contained swatches from one of his famous hats and a limited edition run number of 99.
What are some of the Most Valuable Richard Petty Trading Cards?
Some of the most valuable Richard Petty trading cards currently available are:
 1988 Maxx – [Base] – #43.1 – Richard Petty [PSA 9 Mint] – starting at $200+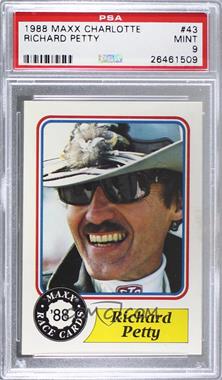 2018 Panini Victory Lane -[Base] – Black -Past Winners Starting at $250 +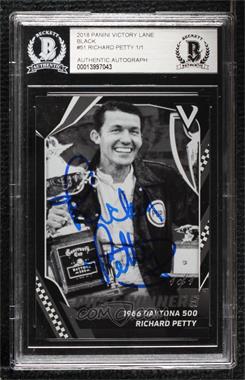 Where can I buy Richard Petty Cards?
Richard Petty cards are available from many different sources. You can find them at card stores, online retailers such as Ebay and Etsy, and even at some garage sales or flea markets. 
However, the best place to find Richard Petty cards is through a reputable dealer such as COMC.COM or BECKETT.COM. These dealers have a wide selection of Richard Petty cards, and they can help you find the perfect card for your collection.
Wherever you decide to buy your Richard Petty cards, be sure to do your research to ensure that you are getting the best possible deal.
Conclusion
No matter what your budget is, there is a Richard Petty card out there for you. So start your search today, and add some of these legendary cards to your collection!
Do you have a Richard Petty card in your collection? Let us know in the comments below! And be sure to check out our other posts for more great NASCAR content. Thanks for reading!
Latest posts by Nate Heath
(see all)